Read the rest of the Magick Primer
MAGICK SIGILS
To be honest, so much has been written about Sigils that I am not sure I can add anything of any shiny newness to the topic. But, a Magick Primer wouldn't really be complete without some mention of Sigils. So instead of a big complicated treatise on the subject, I will try to make it as clear and precise as possible and then link you to some good resources if you want to delve a bit deeper into the area.
WHAT IS A SIGIL?
A sigil is a Magick symbol you create that changes the world around you in a predetermined way.
DO THEY WORK?
In my opinion – sometimes. Other will demand that "Sigils ALWAYS work, just not in the way you expected them to!" I don't totally buy that, but I like the idea that Sigils affect Probability. If you Sigil for something that has a likelihood of a one in a million chance of occurring you can probably lower that to half a million to one. It's still not likely to happen, but technically the Sigil has worked. But that's totally unverifiable and unprovable, so it is simpler in my opinion just to say it either worked or it didn't. That's said, keep in mind the idea of probability when doing sigil magick, and also look to see if the opposite of the desired outcome occurs – that's still a result!
When they do work, and they do very often, it is a very, very satisfying (and somewhat smug) experience. I guarantee you'll smile to yourself when it happens and you'll have that inner Badass Wizard feels.
HOW DO I MAKE ONE?
Decide on something that you want to occur. Write it down in the present tense and also in positive language ("I am rich" not "I will no longer be poor"). Remove all the repeating letters and vowels. Take the remaining letters and make a symbol out of them. Don't overthink it – if the symbol looks cool and Magickal to you, then it is. That's all that matters.
WHAT SORT OF THINGS CAN SIGILS BE USED FOR?
Anything you want, really.
Will they make you be able to fly? Maybe, but only in a dream, if you fly at all. Alan Chapman
always stresses that the desired outcome must have a means of manifesting in the material world, which I feel is good advice. A general rule is that if it is humanly possibly for the event to happen then a Sigil can massively improve the chances that it will.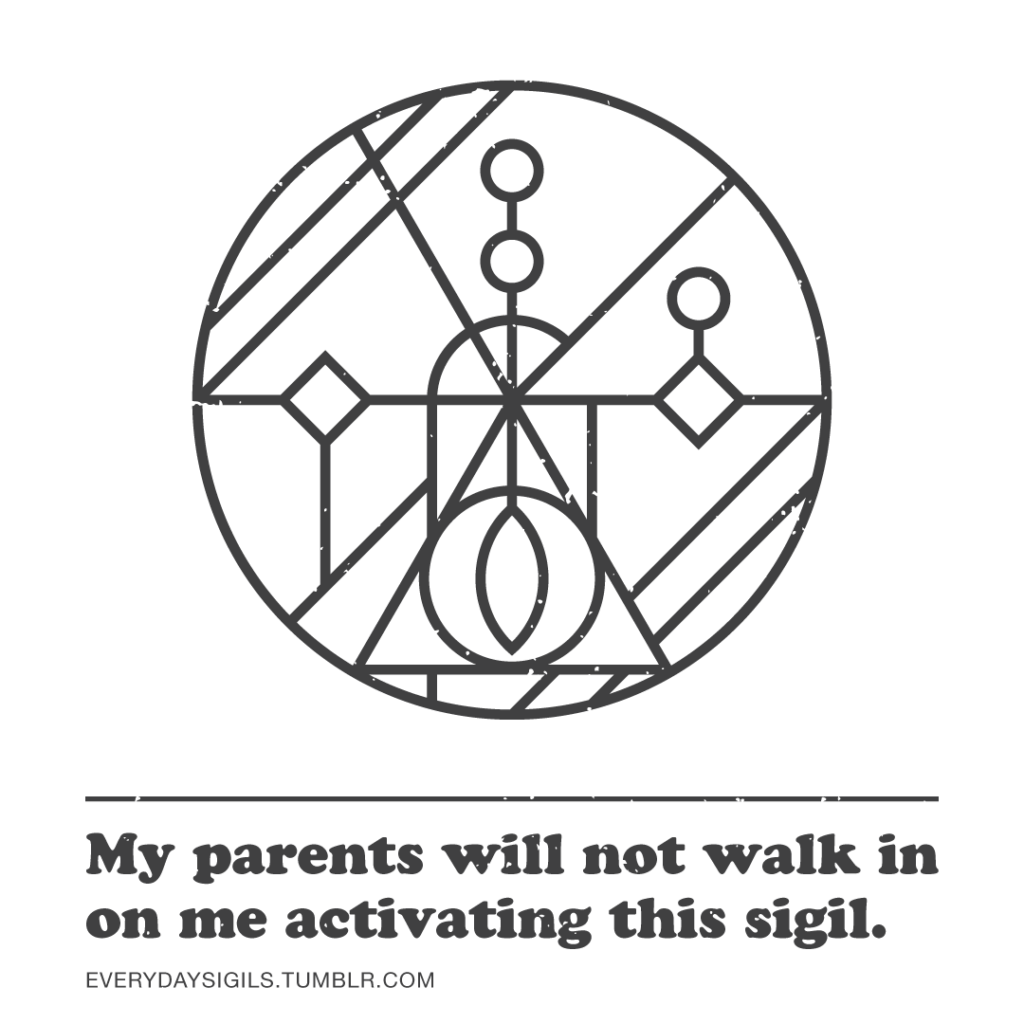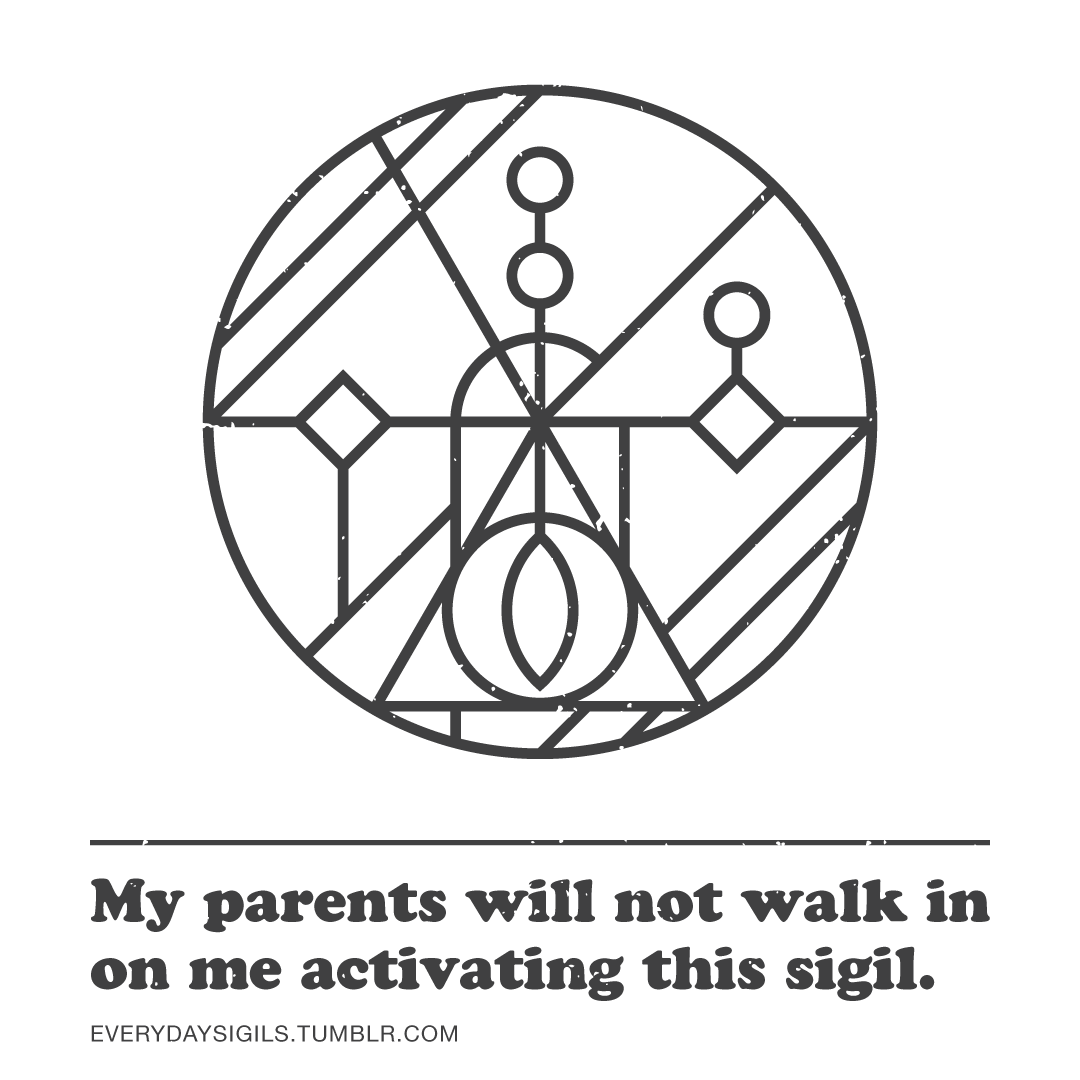 ACTIVATION?
Activation just means you are going to make this symbol Magickal and start it working on the desired goal. This can be done by focusing on it during any intense emotional state – orgasm, fear, anger, happiness, extreme tiredness, joy, that shiver sensation you get from music, or even watching a really sad film. Basically you can use anything that gets you in a very emotional state. When you peek in that state, look at the symbol intensely and know that you have activated it.
LUST OF RESULT?
Some people say you should burn the sigil at this point and never think about it again until you get what you want; others say you should put it somewhere that you will see it often but is still in the background of your life – such as somewhere on your desk not directly in your eye line. Try both ways and see what happens, I have had success and failures with both methods.
Personally, I think it is OK to think about the desired outcome, just don't worry about it, or panic that it isn't working or become obsessed. Don't keep checking if it is working – if you Sigil for a phonecall, don't keep looking at the phone waiting for it to ring.
However, if you do think about it, try to imagine how great it will be when it occurs and then just let it go.
WHEN WILL IT WORK?
Again, everyone is different. Grant Morrison popularised the idea that sigils work in 3's – as in 3 days, 3 weeks, 3 months or 3 years – but this isn't my experience. It may however be your experience, it has been for others. Personally I have had Sigils work straight away, with a few hours (but not always 3) and even some that must have started to manifest before I even did the Sigil.
ANY THING ELSE?
For your first Sigil I wouldn't go for anything too big or life changing. Pick something that is unlikely to happen but far from impossible. A Sigil to find €10 is a much better first Sigil than one for finding €1,000,000.
Other than that, you'll just have to try different ways until you hit the best one for you. Music based Activation works great for me with orgasm activation being the least successful. YMMV!
Good luck and remember to have fun!
Until next time…
LINKS:
– The Sigil Engine!
– Gordon White Sigils Guide
– Other Sigil related posts by Gordon White
– Mookychick's HOW TO MAKE A MAGICAL SIGIL
– Need ideas for Sigils?
– Online Sigil Maker and Another One
– Frater UD's Practical Sigil magic
Read the rest of the Magick Primer
If you want to help me out and allow me to continue doing what I do or to level up,
then there are a number of ways you can do so. Obviously, there is no obligation
or pressure to do so, but if you do I thank you from the bottom of my heart!
Buy The Forty Servants DECK – DELUXE DECK – GRIMOIRE – or – ART PRINTS
Join the PATREON!
Send a donation via PAYPAL
Buy me something off my AMAZON WISH LIST

Share the videos, website, blog posts etc on social media
LINKS & STUFF:
BLOG
– ADVENTURES IN WOO WOO
THE FORTY SERVANTS
– All Info on The Forty Servants here!
THE FOUR DEVILS
– INFO AND DOWNLOADS
– SIGNED ALTAR CARDS/ ART PRINTS
SOCIAL
– Adventures in Woo Woo Facebook
– The Forty Servants Facebook Group
– Twitter
– Discord
– Instagram
– Amazon Author Page
–
SITE NOTES:
As an Amazon Associate, I earn from qualifying purchases, so if you see an Amazon link it's more than likely an affiliate link. The price will be the exact same for you, but I get a commission.