Hello, Good People of the Internet! As some of you know, Halloween is also The Forty Servants Birthday, and so I have a HUGE discount on the Forty Servants decks to give you all. From now until the 7th November 2023, all decks have been massively reduced! If you use the code Halloween2023 at checkout you'll get the following reductions:
The Standard, Travel & Neophyte Editions are down from $44.99 to $30
The Deluxe Version is down from $69.99 to $55
The code will also work to reduce the price of the Nidana Cards too.
Click HERE to go to the store page for all items.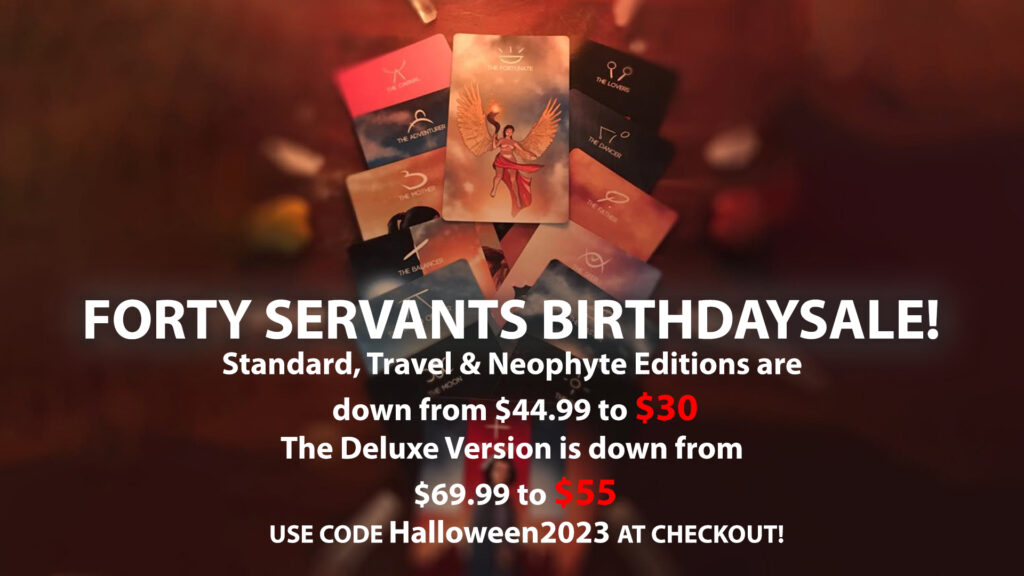 I am delighted to announce that the Forty Servants' BIRTHDAY BOX is now on sale. This is a very special version of the deck that will only be available for a fortnight once a year during the Servants' Birthday celebrations at Halloween. It includes 58 Cards in total featuring all the original Servant cards, all versions of the Four Devils artwork, and alternative versions of beloved Servants – all in standard Tarot size in a gorgeously printed box. Also includes the PDF of both editions of "The Grimoire of the Forty Servants" and the digital version of the deck.
The Birthday Box is only available from 24th October until 7th November!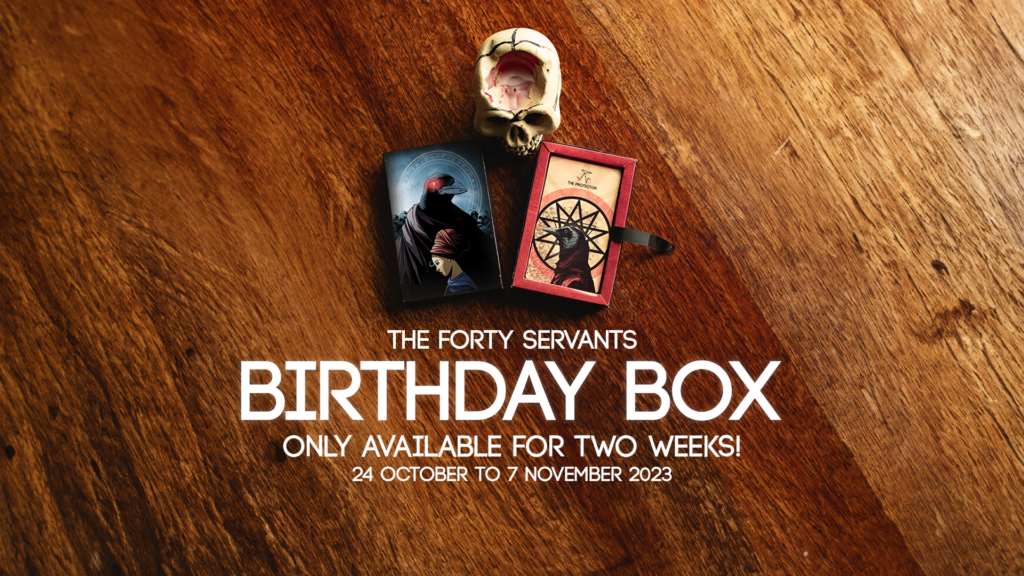 Every year I do some new art for one of a couple of The Forty Servants, and this year, I did the very popular The Fixer. You can have your own A5 Laminated Signed and Numbered version by clicking on the link below! Limited to 40 editions, with 21 of them already gone as I type.
https://www.adventuresinwoowoo.com/product/the-fixer-2023-limited-editionsigned-and-numbered-print/ 
Buying these prints is a great way to support what I do, as there is no middleman that I need to split profits with other than PayPal (who will always get their pound of flesh.)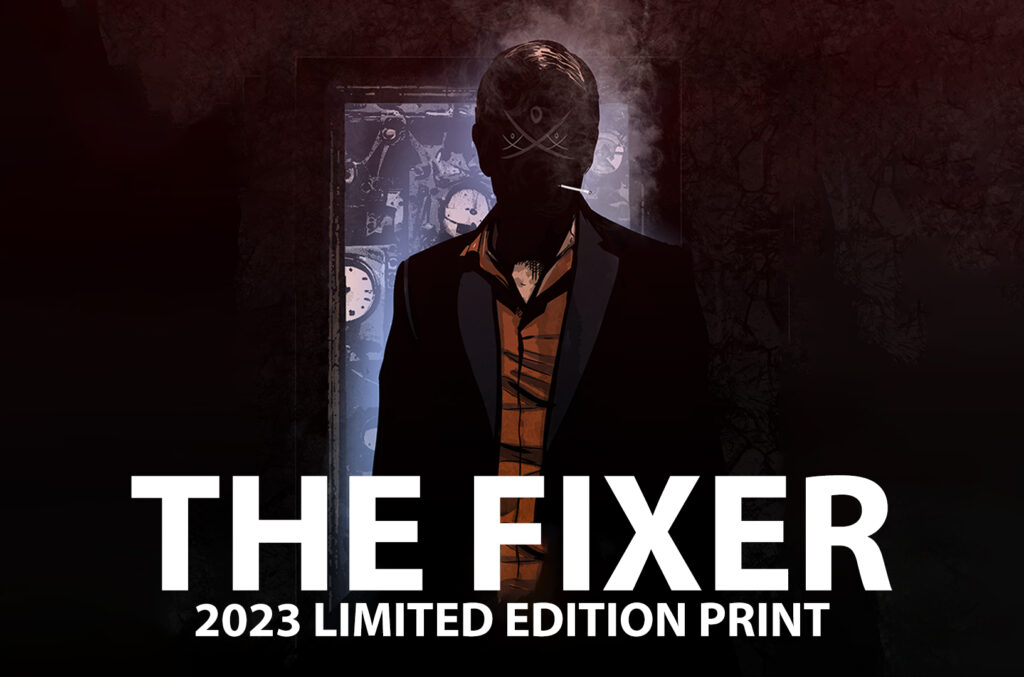 I've put together a new Forty Servants digital bundle for the Halloween Forty Servants celebrations, which includes digital downloads of:
The Standard Edition*
The Neophyte Edition*
The Safe For Work Edition*
The Monochrome Edition*
You also get PDFs and Epub versions of the first and second Editions of The Grimoire Of The Forty Servants*. You will probably need to download these onto a desktop or laptop. Phones often dislike .Zip files.
This time we have two middlemen as the EU Vat laws have made selling things digitally a giant pain in the arse. As usual, we have the Payhip version, which I have used for years now, but we also have a new Patreon-based shop, which, in theory, should work every bit as efficiently for all involved, but I guess I won't actually know until someone buys something from it. I assume anyone can buy from the Patreon store, not just my Patrons. Be a bit silly if that's not the case.
The Payhip link is in Euro, and the Patreon is in US Dollars, if that helps or hinders any of you.
PAYHIP SHOP: https://payhip.com/b/R2za3
PATREON SHOP: https://www.patreon.com/tommiekelly/shop/forty-servants-digital-bundle-29442
If you have any problem buying or downloading this Digital bundle, just let me know, and I'll sort it out as soon as humanly possible.
*You are allowed to print these images and materials for private & personal use only.

If you want to help me out and allow me to continue doing what I do or to level up,
then there are several ways you can do so. Obviously, there is no obligation
or pressure to do so, but if you do I thank you from the bottom of my heart!
Join the PATREON!
Send a donation via PAYPAL
Buy me something off my AMAZON WISH LIST

Share the videos, website, blog posts etc on social media
LINKS & STUFF:
BLOG
– ADVENTURES IN WOO WOO
THE FORTY SERVANTS
– All Info on The Forty Servants here!
THE NIDANA CARDS
– All Info on the Nidana Cards here!
THE FOUR DEVILS
– INFO AND DOWNLOADS
SOCIAL
– Adventures in Woo Woo Facebook
– The Forty Servants Facebook Group
– Twitter
– Discord
– Instagram
– Amazon Author Page
–
SITE NOTE:
As an Amazon Associate, I earn from qualifying purchases, so if you see an Amazon link it's more than likely an affiliate link. The price will be the exact same for you, but I get a commission.