WHAT ARE THE FORTY SERVANTS? CLICK HERE
CLICK HERE TO BUY THE DECK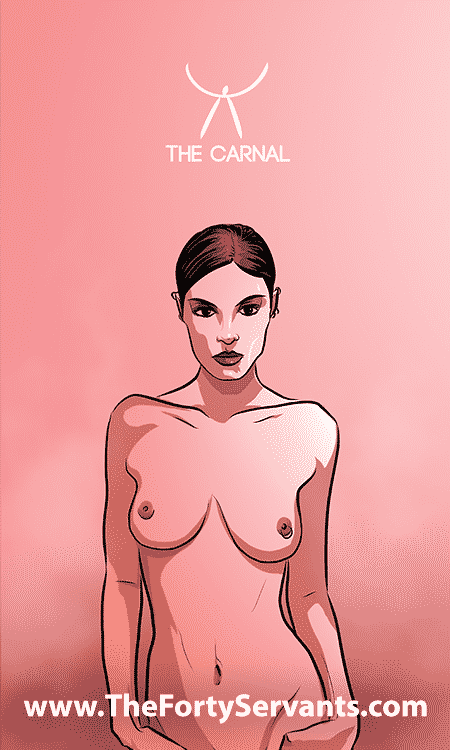 THE CARNAL
The Carnal shows us how to feel positive about our sexuality and physical bodies.
She encourages us to feel sexy, attractive and physically desired.
This Servant is all about feeling good about yourself physically and sexually. She represents self-love, sexual attraction and pure base animal desires. She can indicate a need to explore or indulge in sexual impulses or desires but can also represent the need to love your physical self – flaws and all.
Do you feel sexy and desirable, or do you feel ugly and unwanted? When The Carnal appears, she suggests that now is the time for you to start feeling good about yourself and your physical needs and wants.
The Carnal reminds us that our sexual needs are essential to our well-being and happiness and that we shouldn't be ashamed of them or ever try to repress them. The Carnal suggests that you should start to express your sexuality in the manner you have always wanted to. She says you should allow yourself to feel sexy, desired and passionate.
This Servant is not about love. It is more about the physical aspects of sex, physicality, and desire.
Invoke the help of The Carnal when you feel the need to feel sexy, passionate and beautiful. She is eager to assist in improving sexual confidence. You should invoke The Carnal to feel the confidence and charisma of this Servant when you are out to impress.
You can ask The Carnal to assist you in becoming a great lover who is desired by all and leaves their lovers wanting more. The Carnal is very useful in aiding the end of a sexual drought or for putting the passion back into a stale relationship. If you are looking for a lusty relationship or a quick fling then The Carnal can help get you what you need.
The Carnal works best when used for general attraction rather than for a specific person. The Forty Servants Decks
STANDARD PHYSICAL EDITION
or DELUXE PHYSICAL EDITION, 
NEOPHYTE EDITION,
MONOCHROME EDITION
DIGITAL EDITION

Get the GRIMOIRE
or  ALTAR CARD ART PRINTS
For more information on THE ADVENTURER including her
Prayer, Mantra and Keywords see The Grimoire Of The Forty Servants
BUY AN A5 ALTAR CARD ART PRINT OF THE ADVENTURER HERE!
CHECK OUT THE FREE FORTY SERVANTS VIDEO COURSE HERE!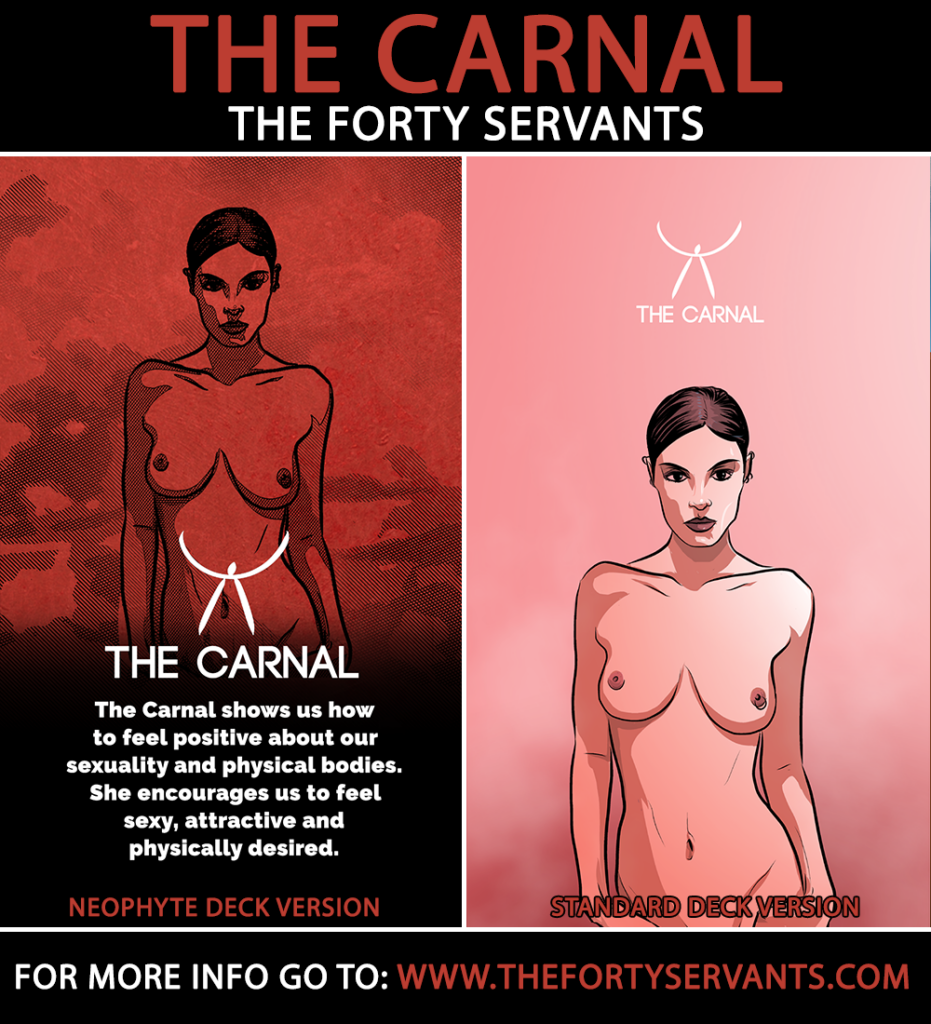 THE FORTY SERVANTS
Click here for more details on the Servants or click the names below to go to that Servant's description!
THE ADVENTURER
THE BALANCER
THE CARNAL
THE CHASTE
THE CONDUCTOR
THE CONTEMPLATOR
THE DANCER
THE DEAD
THE DEPLETED
THE DESPERATE
THE DEVIL
THE EXPLORER
THE EYE
THE FATHER
THE FIXER
THE FORTUNATE
THE GATE KEEPER
THE GIVER
THE GURU
THE HEALER
THE IDEA
THE LEVITATOR
THE LIBRARIAN
THE LOVERS
THE MASTER
THE MEDIA
THE MESSENGER
THE MONK
THE MOON
THE MOTHER
THE OPPOSER
THE PLANET
THE PROTECTOR
THE PROTESTER
THE ROAD OPENER
THE SAINT
THE SEER
THE SUN
THE THINKER
THE WITCH

The Forty Servants Deck- STANDARD EDITION or DELUXE EDITION or DIGITAL EDITION
Get the GRIMOIRE