Back to Full Servant list…
WHAT ARE THE FORTY SERVANTS? CLICK HERE
CLICK HERE TO BUY THE DECK
THE MASTER
The Master shows us how to be the best version of ourselves. He encourages us to always strive to act from our highest selves rather than our lesser natures.
The Master asks: what would you do if you were the best version of yourself? How would you approach the situation at hand from the point of view of an enlightened being?
The Master is you on your very best day – it's you on the day when you can handle everything the world throws at you – and with style. The Master knows in every moment what the best approach is, what to say and how to react because he has seen all this before and knows how to deal with it quickly, efficiently and expertly.
If you were the person you want to be, what would you do, say,  or think? How would you behave? This mindset can be used in times when there is a need for extra strength or confidence.
You should think of the person you were five, ten, or twenty years ago and realise how much more you know about life now than you did then. Then think about how much you would know if you lived to be a thousand years old, a million years old or until the end of all time. How would this version of you (the ideal or master version) deal with your current situations, goals, worries or relationships? What would the perfected version of you do?
The Master is the connection to your Holy Guardian Angel / Daemon / Perfected Self/ Higher Self / Ascended Master/ Watcher or whatever name you call it. You can use the image of the Servant as a gateway to communication with the HGA. Offerings and prayer work very effectively, as does carrying the sigil on your person or using it as a focus in concentration exercises.
Meditation upon the image of the card, or sigil, along with the intention to make contact with your Higher Being can be highly effective.
A great way to allow the energy of The Master into your life is to surrender to him and allow him to instruct and guide you on the right path. Remember The Master is you, so you are not bowing down or worshipping an external divine being, you are simply acknowledging your own divinity in its most complete and perfected form.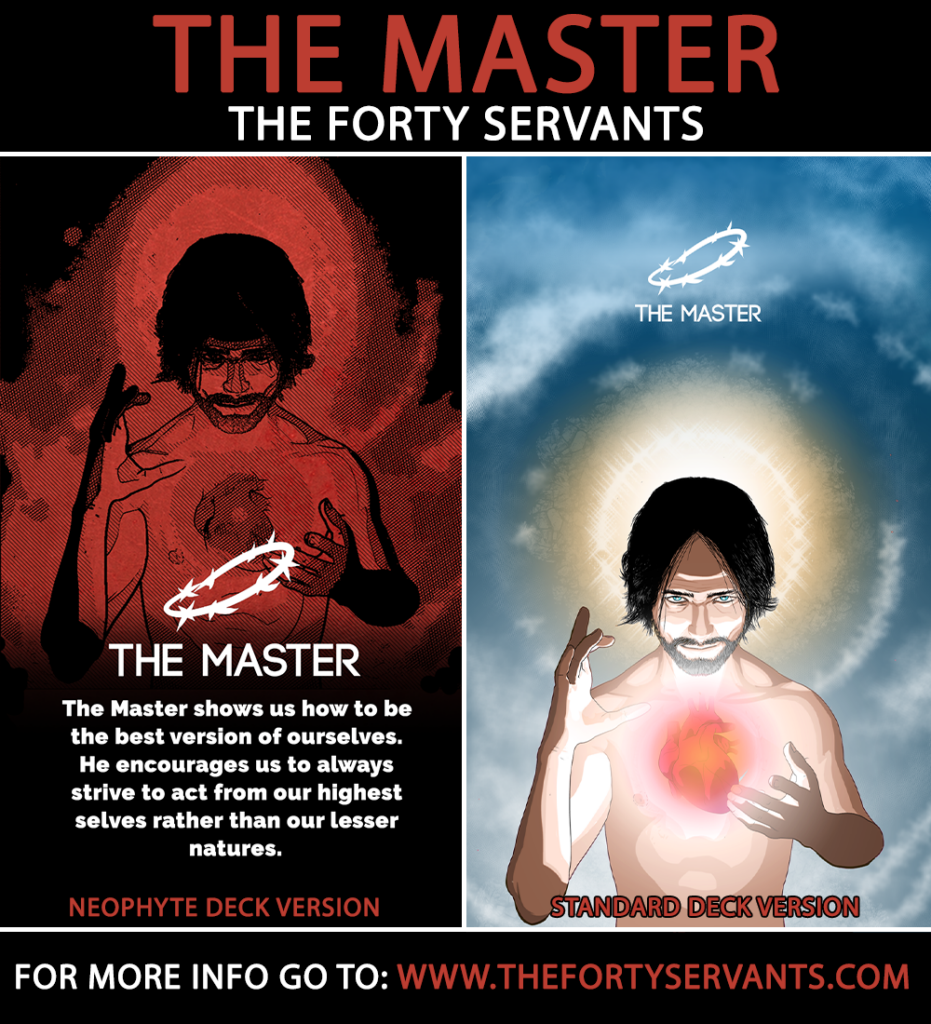 The Forty Servants Decks
STANDARD PHYSICAL EDITION
DELUXE PHYSICAL EDITION, 
NEOPHYTE EDITION,
MONOCHROME EDITION
DIGITAL EDITION

Get the GRIMOIRE
or  ALTAR CARD ART PRINTS
For more information on THE ADVENTURER including her
Prayer, Mantra and Keywords see The Grimoire Of The Forty Servants
BUY AN A5 ALTAR CARD ART PRINT OF THE MASTER HERE!
CHECK OUT THE FREE FORTY SERVANTS VIDEO COURSE HERE!
THE FORTY SERVANTS
Click here for more details on the Servants or click the names below to go to that Servant's description!
THE ADVENTURER
THE BALANCER
THE CARNAL
THE CHASTE
THE CONDUCTOR
THE CONTEMPLATOR
THE DANCER
THE DEAD
THE DEPLETED
THE DESPERATE
THE DEVIL
THE EXPLORER
THE EYE
THE FATHER
THE FIXER
THE FORTUNATE
THE GATE KEEPER
THE GIVER
THE GURU
THE HEALER
THE IDEA
THE LEVITATOR
THE LIBRARIAN
THE LOVERS
THE MASTER
THE MEDIA
THE MESSENGER
THE MONK
THE MOON
THE MOTHER
THE OPPOSER
THE PLANET
THE PROTECTOR
THE PROTESTER
THE ROAD OPENER
THE SAINT
THE SEER
THE SUN
THE THINKER
THE WITCH