The Forty Servants Deck- STANDARD EDITION or DELUXE EDITION or DIGITAL EDITION
BUY THE GRIMOIRE OF THE FORTY SERVANTS ON AMAZON!
.
CHECK OUT THE FREE FORTY SERVANTS VIDEO COURSE HERE
 THE ROAD OPENER
This Servant shows us how to clear, banish and remove the obstacles in our path.
He encourages us to recognise the opportunities that are appearing around us.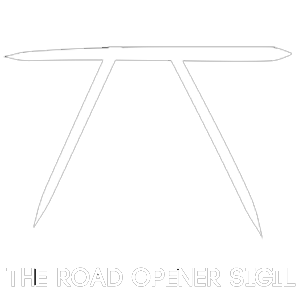 When The Road Opener appears it is a sign that the future is going to lead to new and interesting places. New opportunities are now becoming available, and an improvement in job, love or financial prospects is literally on the horizon.
The Road Opener is a sign that the way ahead is clear and that you should pursue your goals with all your might as nothing can now stop you from achieving what you want.
The Road Opener can also be a sign that an obstacle that was once in your way has now been removed (or in the case of a future card – will be) and you are now better fixed to move forward. The Road Opener is always a positive sign of better things to come.
The Road Opener can be used to open new paths or for clearing obstacles from existing paths. These paths can be career, relationship, creative, or any area that you want to become freer to pursue. You can ask The Road Opener to create new opportunities for you or to show you avenues of interest that you might not have previously considered but which would suit you well and bring you great enjoyment. Candle offerings are very useful, as is drawing the sigils in the air and breathing or pushing it into job applications, or CVs or résumés.
If someone or something is standing in your way The Road Opener can be enlisted to help in the removal of this obstacle. A form or aspect of the great god Ganesha appears above the open road and He is known as the great remover of obstacles. Chanting "Aum Gam Ganapataye Namaha" over the Servant's image while seeing your block or obstacle dissolve can be extremely effective.
A general road opening working could be done to open any suitable paths, which can lead to some unexpected but amazing new directions.
For more information on THE ROAD OPENER including its
Prayer, Mantra and Keywords see The Grimoire Of The Forty Servants
BUY AN A5 ALTAR CARD ART PRINT OF THE ROAD OPENER HERE!
The Forty Servants Deck- STANDARD EDITION or DELUXE EDITION or DIGITAL EDITION
THE FORTY SERVANTS
Click here for more details on the Servants or click the names below to go to that Servant's description!
THE ADVENTURER
THE BALANCER
THE CARNAL
THE CHASTE
THE CONDUCTOR
THE CONTEMPLATOR
THE DANCER
THE DEAD
THE DEPLETED
THE DESPERATE
THE DEVIL
THE EXPLORER
THE EYE
THE FATHER
THE FIXER
THE FORTUNATE
THE GATE KEEPER
THE GIVER
THE GURU
THE HEALER
THE IDEA
THE LEVITIATOR
THE LIBRARIAN
THE LOVERS
THE MASTER
THE MEDIA
THE MESSENGER
THE MONK
THE MOON
THE MOTHER
THE OPPOSER
THE PLANET
THE PROTECTOR
THE PROTESTER
THE ROAD OPENER
THE SAINT
THE SEER
THE SUN
THE THINKER
THE WITCH