BUY THE FORTY SERVANTS DECK HERE!
BUY AN A5 ALTAR CARD ART PRINT OF THE SAINT HERE!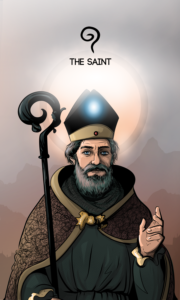 THE SAINT
This Servant is all about intercession and relying on experts.

DIVINATION:
When The Saint appears in a spread it is a sign that The Querent might be best served by asking someone to intercede on their behalf rather than going directly themselves. For instance, The Querent may benefit from someone putting a good word in with a prospective boss before apply for the job or making contact themselves.
If an argument has occurred between The Querent and someone else, The Saint suggests that the best course of action is to ask a mutual third party to help smooth things over with the other person first before The Querent talks to them themselves.
The Saint also suggests that it is often better to use an expert than try to do something yourself. Using an expert may be more expensive in the short term but will save The Querent a lot more in the long term.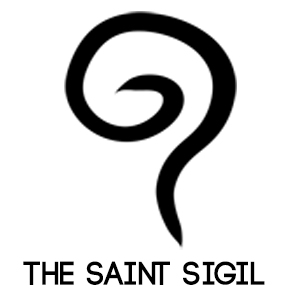 MAGICK:
The Saint is a patron of Magick and can lend his power when tasks that would be normally out of the Operator's ability range need to be performed.
If a person, a spirit, a demon or similar has not answered The Operators call or requests for assistance, they can ask The Saint to help make contact and put in a good word for them.
The Saint can intercede for The Operator in presenting their goals, prayers, wishes, healing requests, or any other needs to the Higher Powers. If The Operator feels that his prayers aren't being heard, or their Magick isn't as effective as it should be then a candle Offering in front of The Saint's Image (Or a week long Novena) is suggested to help get The Powers That Be listening.
The Saint can also intercede with other people – if the Operator needs someone to warm to them they can send The Saint in advance to help make the Target receptive.
BUY THE FORTY SERVANTS DECK HERE!
BUY AN A5 ALTAR CARD ART PRINT OF THE SAINT HERE!