THE FORTY SERVANTS
– THE WITCH –
BUY THE FORTY SERVANTS DECK HERE!
BUY AN A5 ALTAR CARD ART PRINT OF THE WITCH HERE!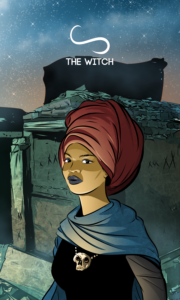 THE WITCH
This Servant is all about Magick and Sorcery.

DIVINATION:
When The Witch appears in a reading it is a sign that there is a touch of magick in the air. The Witch tells The Querent to be aware of the sense that something wyrd is at play -something that seems to have a life of its own. Something special is happening or about to happen – something that seems strange and unusual. People, events or things may appear as if by Magick – or The Querent will be perfectly in the right place at the right time. Things will magically fall into place and good luck will abound.
The Witch leaves The Querent with a sense of wonder like a knowing smile or wink from the universe. Magick is at play, and it is a joy to behold.
In extreme circumstances The Witch can be a sign that something malevolent is working against the Querent. Look to the other cards in the reading for clarification.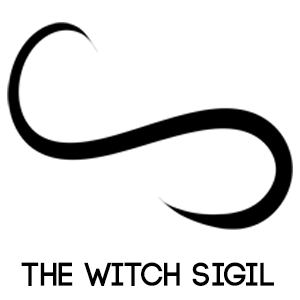 MAGICK:
The Witch Servant is useful in almost any situation The Operator needs. Any Magick, ritual or working can be increased in potency by petitioning or invoking The Witch. She is by a long stretch the factotum of the Servants. The Witch can teach The Operator magick. Candle Offerings or a Novena is suggested when asking The Witch for knowledge or help.
The Witch sigil can be used in real time to add magick to any event, person or problem – most effectively done by drawing it in the air with the first finger of the left hand or with a wand. The Sigil is very useful for enchanting items, banishing energy (see the sigil blocking the energy from coming at you) and in general protection.
Invoke the Witch to feel the Magick of the surrounding area, increase potency or to get in the correct frame for ritual. The Witch is the most versatile of all the servants and is extremely proficient in all areas.
BUY THE FORTY SERVANTS DECK HERE!
BUY AN A5 ALTAR CARD ART PRINT OF THE WITCH HERE!